ADAS Calibration Functionality:
Reading and Deleting of Fault codes

Displaying of vehicle settings

Live data reading/recording

Parameter modifications

Detailed interactive wiring diagrams

Radar Calibration Static and Dynamic

Lane Departure Calibration

Calibration of emergency braking and adaptive cruise control
ADAS or Advanced Driver Assistance Systems is a group of assist functions designed to improve driver safety and reduce the severity and number of traffic accidents.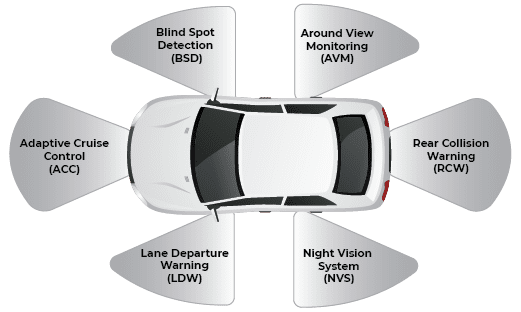 Advanced Driver Assistance Systems (ADAS) calibration is a multi-brand solution that will give your workshop a significant competitive advantage by allowing it to handle the dynamic calibration of ADAS systems, which are becoming more common even in commercial vehicles.
Calibration means realigning cameras and sensors, usually attached to windscreens and around the vehicle, which input information and ultimately control a vehicle's Advanced Driver-Assist features. Lane departure, emergency braking, adaptive cruise control with pre-conditioning instructions, diagnostic tools, wiring diagrams, technical data, and technical procedures are all covered.
In a nutshell, the Autel ADAS Software is an exciting development that could make driving any type of vehicle safer.
ADAS functions are designed to improve driver, passenger, and pedestrian safety by reducing both the severity and the overall number of motor vehicle accidents. ADAS features can warn drivers of potential dangers, intervene to help the driver remain in control in order to prevent an accident, and, if necessary, reduce the severity of an accident if it can't be avoided.
ADAS features are becoming much more common with new models. They are no longer limited to luxury vehicles. Some systems are becoming standard on all vehicle makes.
ADAS calibration equipment is an opportunity for your shop to not only improve driver safety but also increase the profits of your business and keep your business liability-free.
As of 2019, 23% of all registered vehicles on the road had at least 1 ADAS feature.
SIGN UP FOR A
FREE TRIAD DEMO!
HOW QUICKLY CAN YOU RECOUP YOUR INVESTMENT?
CALCULATE YOUR REVENUE POTENTIAL
how does our adas tool
stack up?
Registration and Set-Up Support
Comprehensive
Technical Support
Pre-job Equipment
Requirements and Measurements
On-Tool
Work Instructions
Free Training On Site:
At Your Shop!
Expansive ADAS Coverage
Including AVM, Back Up Camera,
Night Vision, Blind Spot, Lidar
All Packages (MA600 & Standard Stand)
are Upgradable to Additional ADAS
Calibration Packages
Continuous Warranty Extensions After
Yearly Software Purchase
Leading in ADAS Coverage
for Aftermarket Diagnostics
how does our adas tool
stack up?